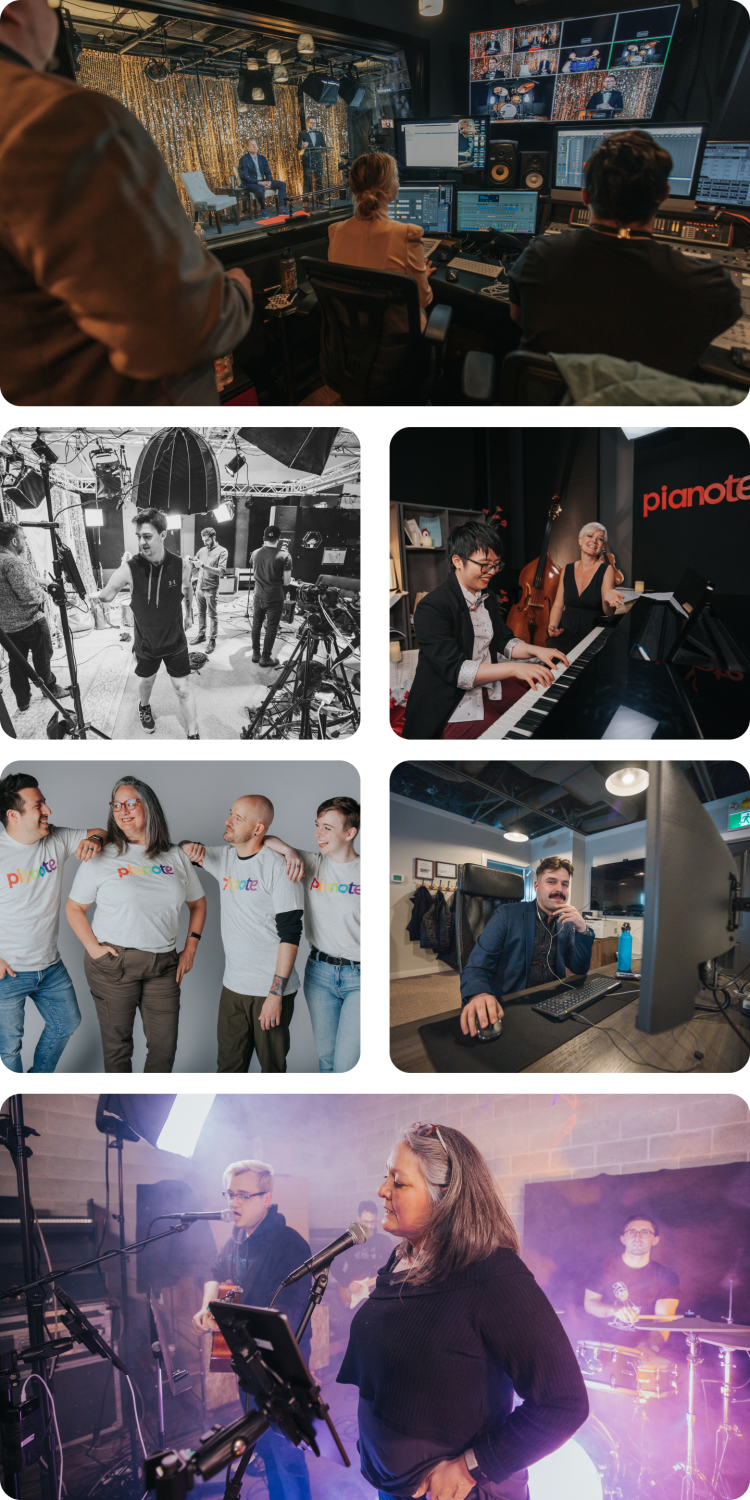 Meaningful work matters
We believe music can change the world -- that an instrument provides a voice, and a voice empowers an individual to express themselves. So when we're building our music lesson communities, we always put relationships before technology. It's our job to make sure students reach their musical goals.

When you join our team, you'll join our mission to create new musicians and keep them playing longer. That means caring about the details -- the messaging, the experience, and the impact. It also means that we'll care about you, all humans are unique and we care about ensuring that our people feel welcome, heard and appreciated. We want to make sure you're supported in the work you do -- with perks, benefits, opportunities for growth and more! We'd love to connect with you.

Join our team:
Not the right time or opportunity?
No problem! We're always looking for good people -- so if now isn't the
right time, or there's not an opening for what you do best -- just click the
link below to join our talent pool for future opportunities.
JOIN TALENT POOL
Still not convinced
you should join our team?
Working here has its perks
Health Benefits
Our people matter -- so you'll gain access to a benefits package including health, dental, and vision.
Mental Health Support
We provide $2000/year/employee on services such as counselling and offer an Employee Assistance Program.
Time Freedom
Put in an honest days work and you'll earn flexibility for what days and hours you do it.
Snacks & Refreshments
Fresh fruit, energy bars, espresso machine, and a fully stocked soda, kombucha and beer fridge.
Stay Strong
You'll have access to an onsite gym loaded with weights and cardio equipment to keep you going.
Music Lessons
We make the best online music education in the world. You and your friends & family get it free!
Stay Sharp
Stay up to date and improve your skills. We'll support your journey to being the best you can be!
Collaborative Team
Your ideas matter. We want to learn from one another and collaborate across all departments.
The Right Tools
We'll provide the right computer for your needs, with everything you need to get the job done!
FUN Company Events
Golf tournaments, warehouse jam nights, LEGENDARY Christmas party and more!
Remote Choice
Depending on the role, you'll have the freedom to work in-office or at home, whatever suits you best.
Room for Growth
Whether that means laterally, vertically or somewhere else, we want to support your growth!
Let's chat.
We want to fill the world with music! So if you're looking to partner, inquire about media opportunities, join our team, or just want to ask a few questions -- click the button below to start the conversation.
CONTACT US